Historic Shell Beach Drive is well known throughout Lake Charles and Southwest Louisiana! The beautiful and prestigious drive along the Lake is frequently included on noteworthy itineraries.
The availability of vacant land along Shell Beach Drive is a rarity. This 2.44 acre parcel provides access directly from Shell Beach Drive. With the right house design, it offers a view of the Lake, especially from a second level.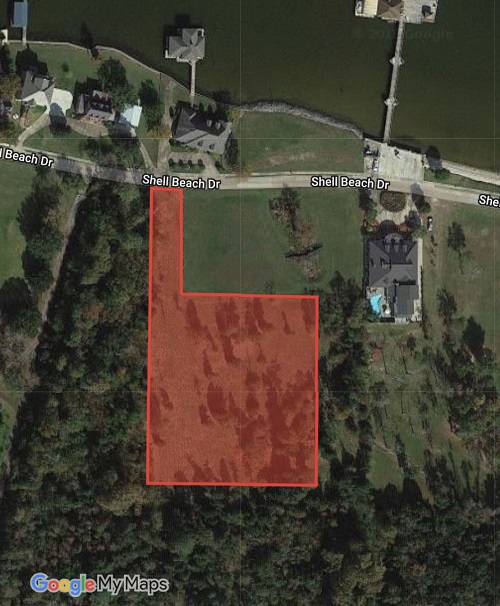 The image to the right indicates the configuration of this impressive parcel.
The measurements are as follows:
This link leads to a Google Map of the property which indicates its proximity to downtown
Lake Charles, the hospital and medical community, Interstate10 and Interstate 210.
The site offers an estate-like setting for a single residence. In fact, it is large enough to accommodate multiple lots.
While an application would have to be made to re-subdivide, there are several possible
ways to divide the property. One option is to divide into two, three, or four lots. Assuming an extension of the lane off of Shell Beach Drive:
A drawing of an 8-lot subdivision of smaller lots is available for prospective developers to consider. Simply call listing Broker Mary Kay Hopkins at 337-439-1079.