Discover an exceptional development opportunity in the heart of Southwest Louisiana!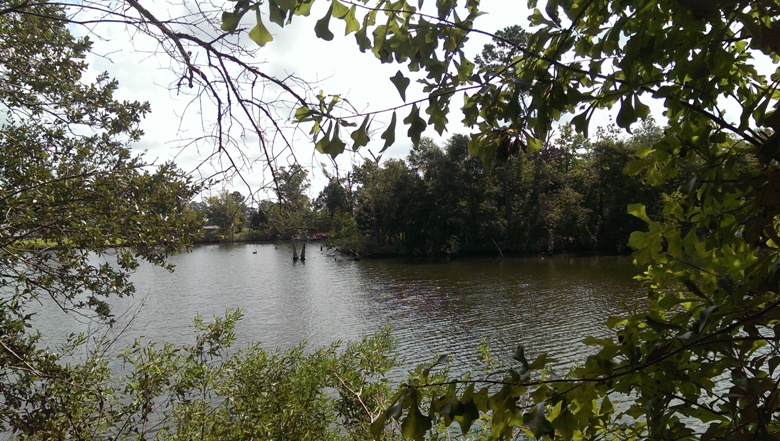 Welcome to Contraband Pointe, a remarkable 149-acre mixed-use development nestled along the tranquil Contraband Bayou and surrounded by W. Prien Lake Road/I-210, Contraband Bayou, and L'Auberge Blvd (formerly Nelson Road).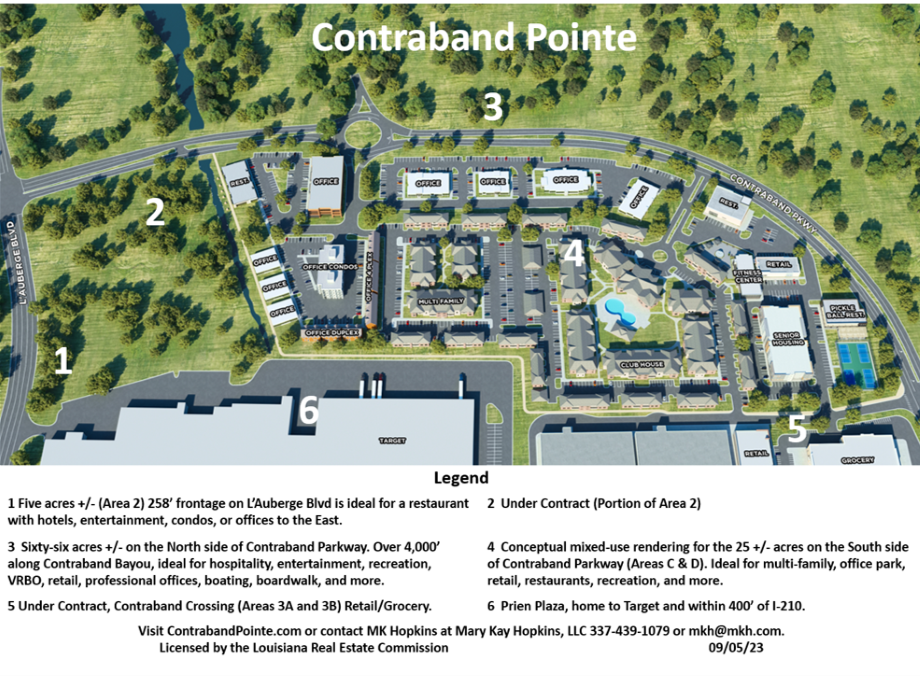 Where History Meets Innovation: Contraband Pointe draws its name from the legendary Pirate Jean Lafitte, who, as rumor has it, concealed his treasures along the bayou's storied shores. This site seamlessly blends history with modern possibilities.
Prime Location and Accessibility: With 4,500 +/- feet of strategically located navigable water-frontage, Contraband Pointe offers a haven for water sports, fishing, and outdoor enthusiasts, making it a hotspot for developers seeking unparalleled opportunities in hospitality, retail, entertainment, and recreation, with exceptional potential for VRBO or similar build-to-rent development. The site also enjoys visibility from I-210 and a convenient location near hotels, hospitals, restaurants, shopping centers, and two major gaming and golf resorts, positioning it as the epicenter of Southwest Louisiana's thriving market.
This image is a site plan of the 41 +/- acres that offer frontage on W. Prien Lake Road and Contraband Parkway. Note: A 16-acre portion of this property is currently under contract.
Key Facts, Features and Amenities:
1. Sixteen acres are under contract. Seven properties have closed. Approximately 95 acres remain.
2. Over 2,000 feet of frontage along Contraband Parkway.
3. Approximately 250 feet bordering L'Auberge Blvd, strategically poised near the Nelson Road Bridge Extension, currently under construction and projected to be completed by 2026. This extension will significantly enhance access to and from downtown Lake Charles, CHRISTUS Ochsner Hospital, and the Shell Beach Drive area.
4. Beneficial "business" zoning by the City of Lake Charles, offering flexibility for a diverse range of commercial ventures.
5. Close proximity to L'Auberge Casino and Golf Resort and The Golden Nugget Casino and Golf Resort.
6. Over 3,000 hotel rooms within 1.5 miles, including approximately 950 rooms located within 1,800 feet of the entrance.
7. Convenient access to major roads, including I-210, Lake Street, L'Auberge Blvd, and the recently inaugurated Contraband Parkway. And, construction has begun on the Nelson Road Extension Bridge, amplifying development prospects.
8. Officially recognized as a subdivision by the City of Lake Charles.
Endless Potential Awaits: With the open canvas remaining, Contraband Pointe presents limitless possibilities. Navigate the "Parcels Available" menu to tailor your investment vision to your precise requirements.
Don't Miss the Bridge to Success: As construction progresses on the Nelson Road Bridge Extension, connecting W. Sallier to L'Auberge Blvd, this already prime location is poised to become one of Southwest Louisiana's premier commercial corridors. And, it is near numerous other significant retail and business firms, restaurants, and hotels, including the highly successful Prien Lake Plaza.
Your Vision, Our Canvas: Contraband Pointe is ready to showcase your masterpiece. Seize this retail, multi-family, and extraordinary waterfront opportunity in Southwest Louisiana. For further details and additional information, kindly refer to our FAQ page.
This map indicates the conceptual parcels currently offered within Contraband Pointe as described within the "Parcels Available" menu. In most cases, the size and configuration are negotiable.