With over 4500 feet of frontage on Contraband Bayou and the completion of Contraband Parkway, Contraband Pointe is poised to be one of the most significant developments in SW Louisiana.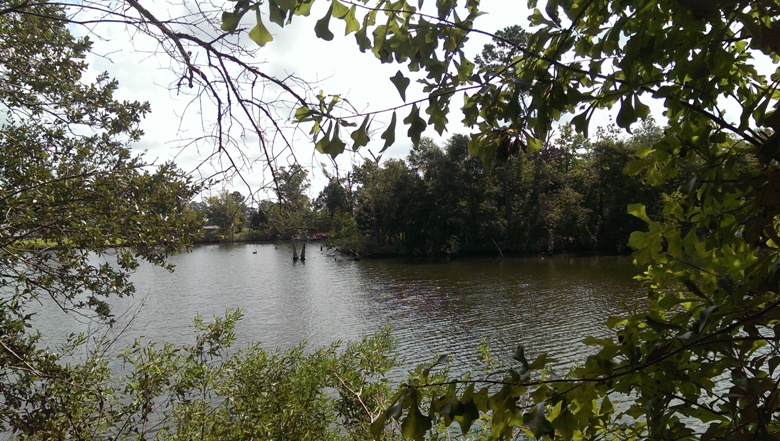 This prime commercial, business, and waterfront real estate is near the entry to L'Auberge Casino Resort and is contiguous to the highly successful Prien Lake Plaza. And it is near numerous other significant retail and business firms, restaurants, and hotels.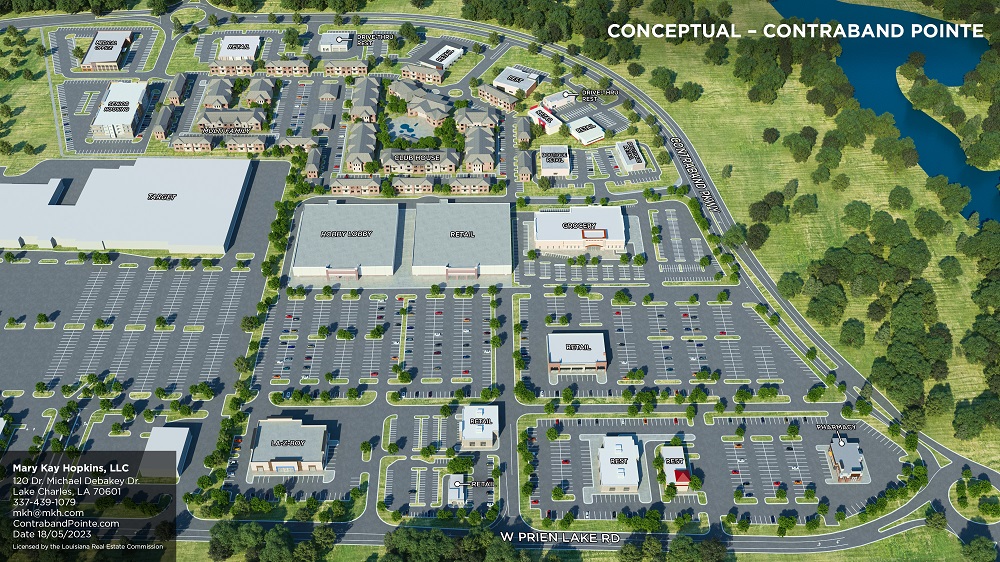 The image that follows is a site plan of the 41 +- acres that offers frontage on W. Prien Lake Road and Contraband Parkway.
The mixed-unit development that encompasses 149 acres bordered by W. Prien Lake Road, Contraband Bayou, and L'Auberge Blvd (formerly Nelson Road) was officially recognized by the City of Lake Charles in January 2017 as Contraband Pointe. The name was selected because approximately 5000 feet of the property fronts the historic and beautiful Contraband Bayou. This bayou is so named because the famous Pirate Jean Lafitte was rumored to have buried treasures along its shores.
The property owners donated just over 11 acres for what is now Contraband Parkway. This 4-lane road opened for traffic in July 2019 and connects West Prien Lake Road at the traffic circle to L''Auberge Blvd. Contraband Parkway offers a median, a sidewalk on the South side, a jogging path on the North side, and an internal traffic circle.
As of January 2023, six sales consisting of 19 acres have closed. Approximately 111 acres remain available that sport a tremendous traffic count from both Prien Lake Road and I-210, which runs parallel to Prien Lake Road. Once the anticipated Nelson Road Extension Bridge is complete, the increased traffic count on L'Auberge Blvd should make this one of Southwest Louisiana's prime commercial corridors.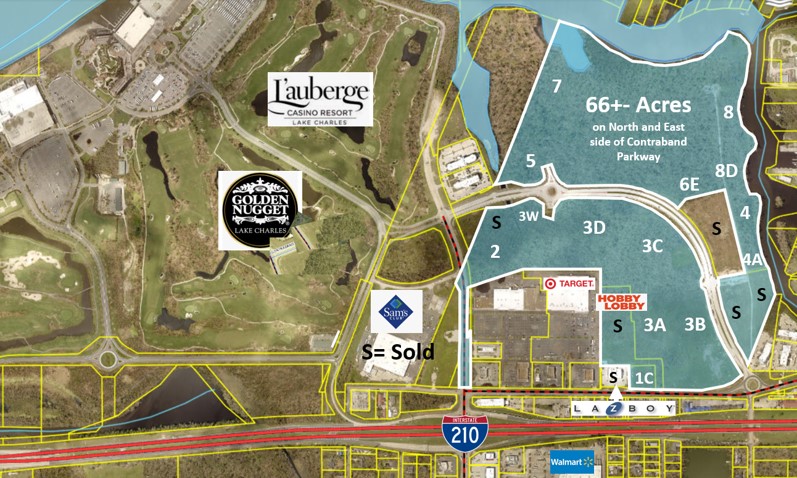 This map indicates the conceptual parcels currently offered within Contraband Pointe as described within the "Parcels Available" menu. In most cases, the size and configuration are negotiable.
Near hotels, hospitals, restaurants, shopping, and two significant gaming and golf enterprises, this extraordinary waterfront property offers a significant opportunity for those wanting to invest in a location in the center of the dynamic Southwest Louisiana market.
The following are the incredible amenities of this one-of-a-kind site:
Over 4,500' of navigable water frontage along the historic and beautiful Contraband Bayou remain, with significant potential to maximize the plentiful water activities, including the area's passion for hunting, fishing, and water sports.

Approximately 900' remain along Prien Lake Road with visibility from I-210

Approximately 250' along L'Auberege Blvd near L'Auberge Avenue, Prien Lake Plaza Shopping Center, and the Nelson Road Bridge Extension slated to begin construction by early summer of 2023. This bridge will go over ContrabandBayou and extend Nelson Rd (aka L'Auberge Blvd) to W Sallier, resulting in a more convenient route to travel to/from downtown Lake Charles, the CHRISTUS Ochsner Hospital and surrounding medical community, and the historic Shell Beach Drive area.

Favorably zoned "business" by the City of Lake Charles as evidenced on this

Lake Charles zoning map

.

Proximity to L'Auberge Casino and Golf Resort and The Golden Nugget Casino and Golf Resort.
3000+- hotel rooms within 1.5 miles of the entrance to the retail section. Of these, approximately 950 rooms are located within 1800 feet of the entrance!
Easy access to I-210, Lake Street, L'Auberge Blvd, and the future Nelson Road Extension Bridge are all positives, as is the recently opened Contraband Parkway, which connects W. Prien Lake Road at the Traffic Circle at Contraband Parkway to L'Auberge Blvd (formerly Nelson Road), significantly increasing development opportunities.
Contraband Pointe

has been accepted as a subdivision by the City of Lake Charles.

The waterfront and interior of the northern portion of the property offer a blank palette for development.
This FAQ page provides additional information about Contraband Pointe.