Contraband Point welcomes the world-famous Shucks Restaurant to satisfy this need (and palates)!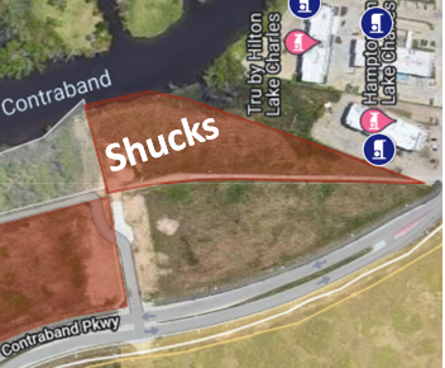 Southwest Louisiana is already familiar with the immensely popular Shucks Restaurant in Abbeville. With the purchase and closing of the property North of the Hampton Inn to Shuck and Boil of Lake Charles, freshly shucked oysters, boiled crawfish and more will soon be available locally.

If their menu is anything like the Abbeville Restaurant, a new standard in Louisiana Cuisine and atmosphere will be achieved for the Lake area.
Finally, a place to enjoy Louisiana food overlooking a beautiful Louisiana Bayou setting! Whether visiting by car or boat, Shucks is destined to become a "must" in your culinary destinations.
Shucks is included in the Marcel Contraband Pointe Develop as shown in the snippet below and described in this excerpt from their brochure:
"Marcel Contraband Pointe includes five restaurant and retail sites, as well as one of the only waterside restaurants in Lake Charles, and a dedicated building space to house an APEX Executive Suites, a flexible community co-working facility."
The screenshots of plans displayed here are just a sampling from this Marcel Contraband Pointe Development 15-page brochure. The full project including the Phase Two and LCBR properties is shown below.
For leasing information, email This email address is being protected from spambots. You need JavaScript enabled to view it. or call 281-363-1336. Visit their website at MarcelGroup.com.